iPod Alarm Clock WiFi Spy Nanny Cam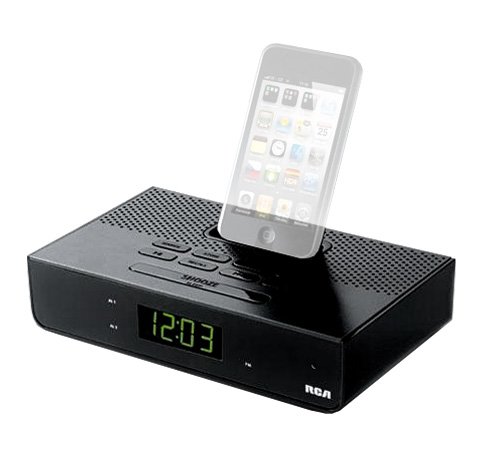 iPod Alarm Clock WiFi Spy Nanny Cam
What goes on at home when you're not there? If you pay a babysitter to watch your child at home or are concerned about what your teenaged children are up to during the day, the unknown answer to that question can nag at you. With the iPod Dock Wireless Clock Camera, you don't have to wonder any longer. This wireless nanny cam allows you to keep tabs on your home, so you can take action if needed or get the peace of mind that comes from knowing everything is fine. Check out the video test of this nanny cam clock here.
The Most Discreet Nanny Cam
The iPod Dock Wireless Clock Camera looks just like an ordinary mobile phone docking station with a digital clock. As long as you have a wireless router and a high-speed Internet connection in your home, you can place it in any room that you wish to monitor. A tiny pinhole camera is featured at the front of the camera and transmits video whenever it's activated, capturing the images of whatever is taking place in the room. You can use up to 32 of these wireless nanny camera units in your home to monitor your children's rooms, the family room and every other location. The camera unit works like any docking station, so even your teens won't know that it's secretly recording them.
Keep Track of What's Going on at Home
With the iPod Dock Wireless Clock Camera, you can check on your home from anywhere at any time of day. Once you have the system set up, you can use your iPhone, iPad or Android mobile device to instantly view footage for all of the wireless nanny cam units in your home. You'll also receive a central monitoring software program that you can install on any PC for viewing purposes and for making changes to the camera's settings.
Simple to Setup, Easy to Use
Unlike other wireless nanny camera units, the iPod Dock Wireless Clock Camera does not require professional installation or training. You can set it up yourself in a matter of minutes and begin using the wireless clock camera to the fullest right away. There are no monthly fees to use the wireless clock camera, the mobile apps for viewing or the computer software. This makes the wireless nanny camera an economical, yet effective way to ensure that everything is fine at home.
Incredibly Secure
The iPod Dock Wireless Clock Camera uses WPA encryption to prevent anyone from accessing the footage. The signal is also protected by a username and password, ensuring that only you can access the video stream. This state-of-the-art wireless nanny camera is backed by a 1 year warranty from the manufacturer, and even after the warranty period expires, repair service is offered to keep your home monitoring system running smoothly.
Finally find out just what's taking place at home and keep tabs on your family and your pets when you're on the go. Order the iPod Dock Wireless Clock Camera today!


Reviews