Honeywell Indoor IP Camera For TC W/ WPS Color White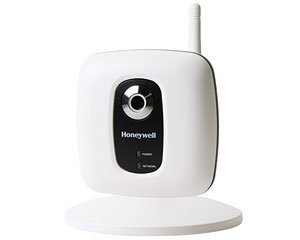 Honeywell Indoor IP Camera For TC W/ WPS Color White
Sometimes, you want to monitor in the living room. Other times, you want to be able to check on your child while he sleeps. You may want to have a clear view of your dog's kennel or one of your front door, depending on the day. With the Honeywell iPCAM Wired/Wireless IP Camera, you can monitor any part of your home and view live streaming video whenever you please. Portable and easy to use, this flexible monitoring solution can even send you emails and videos if it detects movements when there shouldn't be any!

- Completely portable, lightweight security camera is 3.8 inches high by 3.5 inches wide by 1.4 inches deep

- Works wired or wirelessly for complete flexibility

- Watch video live on your mobile device

- Receive email and video messages when the system detects activity that you specify

- Outfitted with a Wi-Fi repeater extender to ensure connectivity

- Used Honeywell Total Connect to monitor system performance and troubleshoot as needed whether you're at home or on the go. Must be used with Total Connect system.


Reviews