8 Channel H.264 DVR (960H/D1/CIF) + 8 IR 800TVL Cameras Kit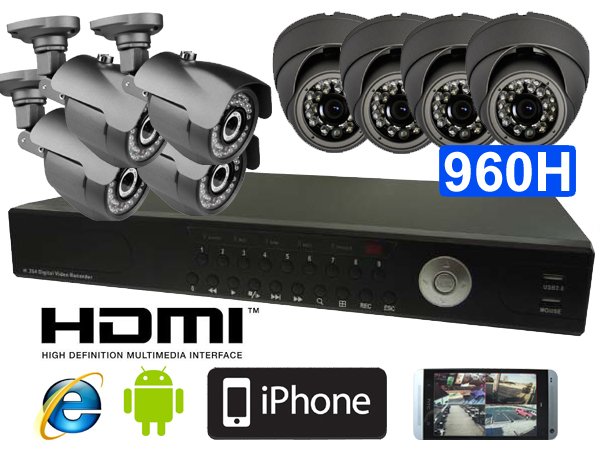 8 Channel H.264 DVR (960H/D1/CIF) + 8 IR 800TVL Cameras Kit
Setting up a CCTV system to protect your home or business doesn't have to be difficult. The 8 Channel H.264 DVR (960H/D1/CIF) + 8 IR 800TVL Cameras Kit supplies you with all of the essentials needed to capture footage indoors, outdoors or inside and outside, so that you can effectively monitor your property and enjoy greater peace of mind about the safety of your family or your employees and customers.

Perfect for the Large Home, Business or Office

The 8 Channel H.264 DVR (960H/D1/CIF) + 8 IR 800TVL Cameras Kit includes a total of eight CCTV cameras, making it a versatile solution that can suit a number of different needs. This setup is ideal for monitoring the larger home or a house that is situated on a large piece of property or is surrounded by numerous outbuildings. The system is also perfect for small to medium-sized offices, retailers, restaurants and other businesses.

About the 8 Channel H.264 DVR

With the 8 Channel H.264 DVR, you can record footage at three different levels of quality and have the option of recording live audio in your home or place of business. You'll receive all of the software needed to install and operate the system, and the user interface is so straightforward that even those who are completely new to security will have no trouble using it. DDNS-ready, the system can be hooked up to a network if you wish, and the USB port makes it possible to save information to a hard-drive for back-up purposes. We can add a hard-drive to your order with 1, 2 and 4 terabyte options available. The DVR records at fast speeds, so you won't risk missing the shot if a security threat occurs. Measuring 13.93 inches by 9.64 inches by 1.77 inches in size, the unit comes with a mouse, its own power supply and a handy remote control.

About the Security Camera Options

When you purchase the 8 Channel H.264 DVR (960H/D1/CIF) + 8 IR 800TVL Cameras Kit, you have your choice of purchasing eight Indoor 800 TVL 1/3" HDIS CCD Vandalproof Dome Security Cameras, weight Outdoor 800 TVL 1/3" HDIS CCD Weatherproof Security Camera or four of each variety. Both types include 24 infrared illuminators to capture footage by day and night from distances of up to 65 feet. The indoor camera comes in a lightweight but durable aluminum dome housing that is vandalproof to prevent tampering. For maximum weather resistance, the outdoor version comes in a waterproof aluminum housing with a rust-resistant powder coated finish. Both types include brackets to make them easy to mount and feature 3.6-millimeter fixed lenses.

What Else Is Included

The 8 Channel H.264 DVR (960H/D1/CIF) + 8 IR 800TVL Cameras Kit comes with the necessary accessories to ensure simple installation in any home or workplace whether you opt to hire a professional installer or choose to undertake the project yourself. You'll receive a total of 8 CCTVs cameras and two 12 volt DC camera power supplies with a pair of power splitters to fully power your system.


Reviews