8 Channel Economy DVR (D1/CIF) + 8 IR 800TVL Cameras Combo with smart phone access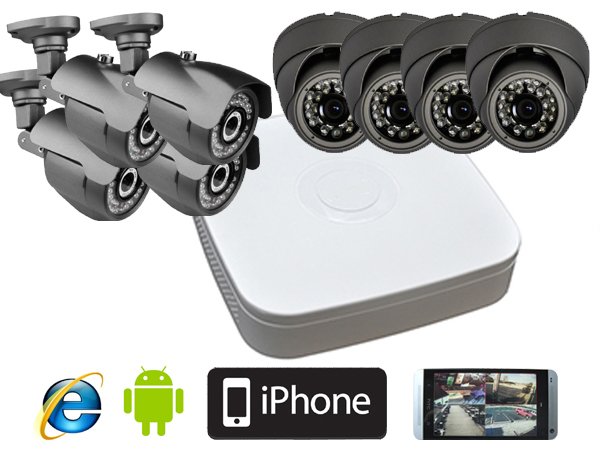 8 Channel Economy DVR (D1/CIF) + 8 IR 800TVL Cameras Combo with smart phone access
For the larger home, the 8 Channel Economy DVR (D1/CIF) + 8 IR 800TVL Cameras Combo makes it possible to provide full coverage with a CCTV system to keep your property secure without requiring a huge investment. A true value, this large CCTV bundle gives you reliable components for impressive picture quality at an affordable price.

An Economic Set That Lets You Easily Monitor
The 8 Channel Economy DVR (D1/CIF) + 8 IR 800TVL Cameras Combo provides a total of eight cameras to give you an endless number of possible set-ups to cover key locations inside and outside of your home. With this economical system, you also get the full benefits of remote monitoring capabilities wherever you go. Using your tablet or smartphone, you can keep tabs on what's going on at home. This makes the set perfect for families that entrust in-home child care to babysitters, households with teenagers and families that want to be able to check on their pets with ease. When deciding where to place your cameras, you can take into account areas that you need to keep the most secure like your front door and garage and the parts of your home that you will want to check on the most like the nursery and the family room.
About the 8 Channel H.264 DVR
With this CCTV bundle for homes, we include our 8 Channel H.264 DVR, which allows you to play back footage with ease and share live footage with your smart phone or tablet. Because this DVR system is intended for home use, its included operating system has a very simple interface that you can use to the fullest without having to spend time reading tons of manuals and help files. Capable of recording both audio and video, the DVR includes a mouse, a power supply and a remote control, and it has a USB port for backup purposes. A hard drive can be added to your order for storing your CCTV footage files for a small additional charge.
About the Camera Options
Every home is uniquely laid out and every family has their own needs when it comes to security and home monitoring. That's why this 8-camera CCTV system can be customized with all outdoor cameras, all indoor cameras or an equal mix of indoor and outdoor cameras. The standard camera included with the system has a 3.6mm lens and is equipped with 24 infrared illuminators to record action up to 65 feet away clearly in the dark. Our indoor cameras are enclosed in aluminum domes that make them impossible to tamper with, while the outdoor cameras are shielded from the elements by weatherproof powder coated aluminum housings.
What Else Is Included?
The 8 Channel Economy DVR (D1/CIF) + 8 IR 800TVL Cameras Combo is designed to simplify set-up as much as possible, so we include all of the essential components and accessories. Along with the DVR and the eight cameras of your choosing, you'll receive a CCTV cable for each camera, two 12-volt DC power supplies and a pair of splitters for fully powering your new CCTV system.
Reviews