4 Channel H.264 DVR (960H/D1/CIF) + 4 IR 800TVL Cameras Kit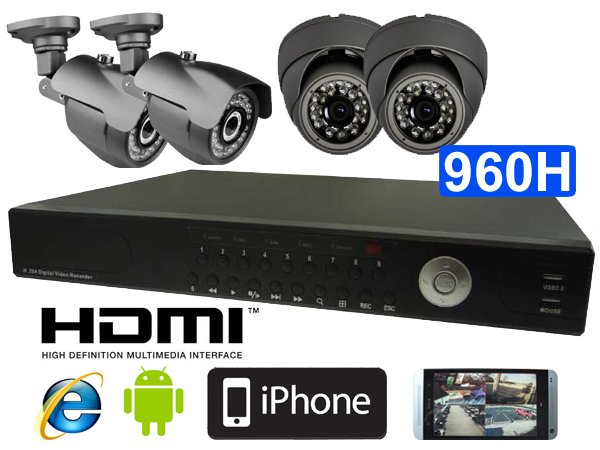 4 Channel H.264 DVR (960H/D1/CIF) + 4 IR 800TVL Cameras Kit
If you're in need of a reliable, yet basic security camera system for your home or for a small business location, you can count on the 4 Channel H.264 DVR (960H/D1/CIF) + 4 IR 800TVL Cameras Kit to provide the monitoring that you need to have peace of mind. This 4 channel DVR camera combo is perfect for everyday monitoring needs and gives you the flexibility to place cameras wherever you have a need.

Protecting Your Home or Business

With the 4 Channel H.264 DVR (960H/D1/CIF) + 4 IR 800TVL Cameras Kit, the setup options are truly limitless. The standard set includes indoor security cameras, but we can substitute weatherproof outdoor cameras or provide you with a mix of indoor and outdoor cameras to suit your needs. With a total of four cameras included in the kit for one affordable low price, you can monitor the essential areas in your home like the nursery, the backyard, the pool area, the shed, the garage, the front door and the sliding door on the back porch. Businesses can strategically place the cameras to monitor the sales floor, stock rooms and entrances for loss prevention purposes and general safety.

Features of the 4 Channel H.264 DVR

This 4 Channel DVR Camera Combo includes our 4 Channel H.264 DVR, a cost effective system that is packed with features that provides great value for the price. You don't have to be a tech guru to operate this DVR, as its interface is incredibly user friendly and straightforward. The DVR gives you the ability to record audio and video or video alone, and it's network ready, so that you can monitor your home or business when you're on the go. Measuring 13.93 inches in length by 9.64 inches in width by 1.77 inches in height, the DVR doesn't require much space for setup, and you'll receive the necessary power supply and mouse for operation as well as a handy remote control.

Features of the Indoor 800 TVL 1/3" HDIS CCD Vandalproof Dome Security Camera

The video camera included in this CCTV bundle for homes and small businesses allows you to clearly see the surroundings in any room you're monitoring. With a total of 24 infrared illuminators, the cameras can record footage in the dark from up to 65 feet away, so even if you don't have security lights or nighttime illumination, you can monitor around the clock. The aluminum housing is tamper-proof for added security, and the camera is easy to mount with the included three-axis brackets.

What Else Is Included

Along with the 4 Channel H.264 DVR and four high quality vandalproof video cameras, this money-saving 4 Channel DVR Camera Combo includes a total of four CCTV cables, a 12-volt DC power supply for the cameras and a single power splitter. You'll have everything you need for professional or DIY installation, and you can add on a 1TB, 2TB or 4TB hard drive to save the footage from your DVR.


Reviews