4 Camera Economy DVR (960H/D1/CIF) + 4 IR 800TVL Cameras Combo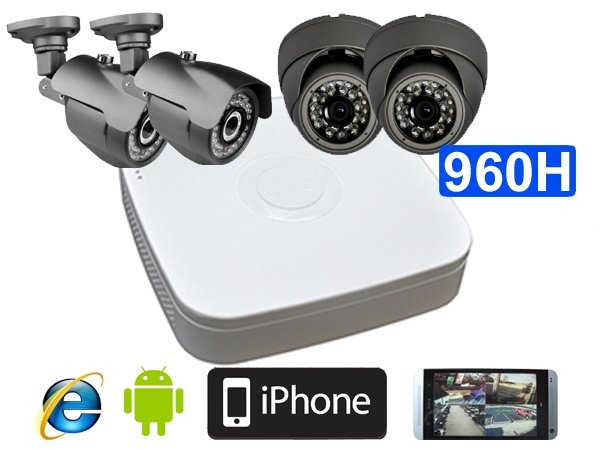 4 Camera Economy DVR (960H/D1/CIF) + 4 IR 800TVL Cameras Combo
Putting together a CCTV system to protect your home on a budget doesn't have to mean sacrificing quality. The 4 Camera Economy DVR (960H/D1/CIF) + 4 IR 800TVL Cameras Combo is designed to save you money while giving you the peace of mind that you're monitoring your property with a high quality security camera system.
An Economical Solution for Your Home
The 4 Camera Economy DVR (960H/D1/CIF) + 4 IR 800TVL Cameras Combo is designed for small homes or for basic monitoring and is simple to use, so even if you've never operated a CCTV system before, you'll be able to utilize the system to record footage and view it as needed. The kit includes four cameras, making it possible for you to record footage from any four places inside or outside of your home. Many people choose to place one at the front door, on the driveway or front yard, around a swimming pool or the backyard and in the nursery or the living room; however, the setup possibilities are truly endless with this kit.
Your Choice of Cameras
This economy DVR system is customizable to suit your exact security needs, as you can select four outdoor cameras, four indoor cameras or two indoor and two outdoor cameras with this offer. All of the cameras include infrared sensors that allow them to record footage at night, so you can see anyone on your property from up to 65 feet away even in the dark. The cameras also come with mounting brackets and record in high resolution. The primary difference between the two is the type of housing that is used in their design. The indoor housing is an aluminum dome that is fully tamper-proof to prevent intruders or anyone else from disconnecting the system. The outdoor cameras are protected by powder coated aluminum that is waterproof to keep them from becoming damaged by rain, snow and humidity.
About the 4 Channel H.264 DVR
The DVR is the portion of your security system that captures the footage and allows you to review it as needed. With the 4 Channel H.264 DVR, you get a state-of-the-art design that allows you to monitor activity both from the system itself or remotely with a BlackBerry, Symbian, Android, Windows or iOS device. Audio recording functionality is included if you have a need to monitor the sound in and around your home as well. Easy to use, the DVR comes complete with operating software, a power supply and a mouse. If you wish, you can add one of three different hard drives to the system for backing up footage and retaining it for future review.
What Else Is Included?
Along with your choice of cameras and the DVR, this system includes the necessary accessories for setting up your system indoors or outdoors. You'll receive four cables for the cameras, a single 12-volt DC power supply and a power splitter with the kit.
Reviews