16 Channel H.264 DVR (960H/D1/CIF) + 16 IR 800TVL Cameras Kit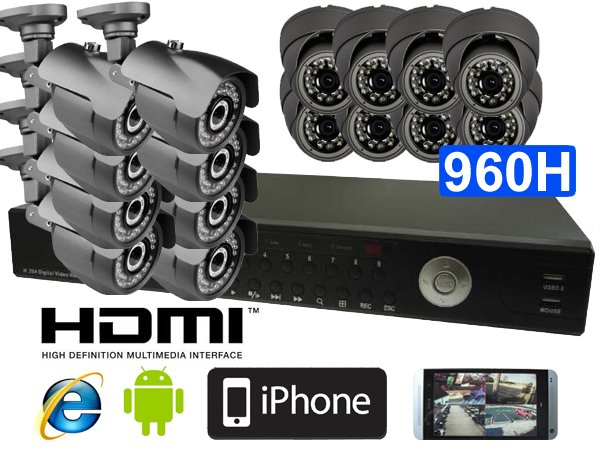 16 Channel H.264 DVR (960H/D1/CIF) + 16 IR 800TVL Cameras Kit
For applications where multiple cameras are required to fully monitor a property, the 16 Channel H.264 DVR (960H/D1/CIF) + 16 IR 800TVL Cameras Kit is the ideal choice. The largest of our Security Camera and DVR Kits, this system comes complete with 16 security cameras, a 16-channel DVR and all of the necessary hardware for connections. With its bundle price, the kit allows business owners and homeowners to enjoy the best possible value when purchasing a system of this size.
Features of the 16 Channel H.264 DVR/NVR
With its easy-to-operate, intuitive interface, the 16 Channel H.264 DVR simplifies recording while providing you with all three standard resolution capabilities, including 960x480 quality for the clearest possible pictures. The DVR can record both audio and video for applications in which complete surveillance is required. For flexible monitoring, the system can be accessed via a network connection, but it is also DDNS supported for mobile monitoring. By purchasing a separate hard drive from our collection here at Midwest Security Supplies, you can add backup capability to the DVR with ease. The 16 Channel H.264 DVR comes with everything needed for operation, including a wired mouse, a power supply and a handy remote control. You'll also receive complete operating instructions and the software needed to setup and operate the system. The component is 13.993 inches long by 9.64 inches wide by 1.77 inches high, so it doesn't require ample space for setup.

Features of the Indoor 800 TVL 1/3" HDIS CCD Dome Security Camera

The standard 16 Channel H.264 DVR (960H/D1/CIF) + 16 IR 800TVL Cameras Kit includes a total of 16 Indoor 800 TVL 1/3" HDIS CCD Dome Security Cameras. This model is just 3.7 inches in diameter by 2.71 inches in height for discreet mounting and has a heavy-duty aluminum housing that is tamper-resistant to ensure the integrity of your system. With its 1/3-inch HDIS Image Sensor, the camera can switch to a greater light sensitivity at night and capture footage up to 65 feet away with the help of 24 infrared illuminators. This feature ensures that any property can be completely monitored any time of the day without having to power lights around the clock. Mounting brackets are included for ease of installation. These cameras are designed specifically for indoor use and are not resistant to the elements; however, this kit can be customized with outdoor cameras. Contact our team at Midwest Security Supplies for more information.

What Else Is Included
Along with the 16 security cameras and the 16-Channel H.264 DVR, this kit includes the CCTV cables, camera power supplies and power splitters required to fully set up your new CCTV security system.
Reviews