1000 ft. 350MHz CMP STP Solid Plenum Cat5e Cable, White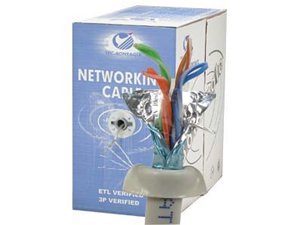 1000 ft. 350MHz CMP STP Solid Plenum Cat5e Cable, White
When you're connecting a component of your home security system to the Internet, you can't afford to use anything less than the best networking cable. Because the quality of your cable matters, our 1000 ft. 350MHz CMP STP Solid Plenum Cat5e Cable is truly the best choice for your needs. Our bulk Plenum networking cable ensures safety and offers the best performance you can get from a networking cable of this type.
This 1000ft plenum cat5 cable is intended for use in applications where a longer networking cable is required. The cable has a total of four twisted conductor pairs, which helps to reduce crosstalk or interference in order to ensure the smooth transition of signals to and from your security system. The conductors are made out of solid annealed copper. Generally considered to be the finest choice of materials for use in networking cables, copper is pliable and strong to resist wear and tear and is highly resistant to corrosion to help the conductors last for as long as possible.
Choosing the 1000 ft. 350MHz CMP STP Solid Plenum Cat5e Cable for your networking needs means getting a product that has been rigorously tested. The cable is ETL verified and RoHS compliant, so you can use it with peace of mind. The white outer jacket is made out of flame retardant PVC and is plenum-rated making it safe for use in areas above drop ceilings or below raised flooring where there is HVAC equipment installed.
Applicable Standards
ETL listed type CMP
C(ETL) listed FT6
ETL verified to TIA-568-C.2 and ISO/IEC 11801
RoHS compliant
ATM 155 Mbps
Ethernet 10BASE-T, 100BASE-TX, 100BASE-VG, 100BASE-T4, 1000 Mbps 1000BASE-T Gigabit Ethernet (IEEE 802.3) and 16 Mbps Token Ring (IEEE 802.5)
Physical Characteristics
| | |
| --- | --- |
| Number of Conductor Pairs | 4 |
| Size | 24 AWG |
| Stranding | Solid |
| Conductor Material | Solid Annealed Bare Copper |
| Shield Material | Aluminum Foil Shield |
| Rip Cord | Yes |
| Insulation Material | FEP |
| Insulation Overall Diameter | 0.0374" ± 0.0001" |
| Insulation Average Thickness | 0.0086" |
| Jacket | Flame Retardant PVC |
| Outer Jacket Average Wall Thickness | 0.020" |
| Outer Jacket Nominal O.D. | 0.233" |
| Nominal Weight | 34lbs |
Mechanical Characteristics
| | | |
| --- | --- | --- |
| Temperature Rating | Installation | 0° C to 60° C |
| | Operating | -20° C to 75° C |
| Tensile Strength | Before | > = 13.8 Mpa |
| Elongation | Aging | > = 100% |
| Aging Condition | | 100° C x 168 hours |
| | After | > = 85% of unaged |
| | Aging | > = 50% of unaged |
Color Code
| | | |
| --- | --- | --- |
| Pair 1 | White/Blue | Blue |
| Pair 2 | White/Orange | Orange |
| Pair 3 | White/Green | Green |
| Pair 4 | White/Brown | Brown |
Reviews